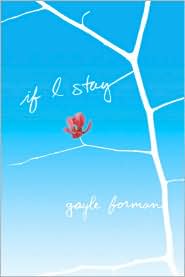 eading level: Young Adult

Hardcover: 208 pages
Publisher: Dutton Juvenile (April 2, 2009)
Language: English
ISBN-10: 0525421033
ISBN-13: 978-0525421030
I bought this book at the Brooklyn Book Festival and had it signed by Gayle Forman herself! Gayle is a super cool chick, by the way.
IF I STAY is a gripping story about Mia, a teen girl pressed to make a difficult decision. After a car accident that leaves Mia an orphan, she finds herself set apart from her comatose body, unable to interact with the living. Mia watches her remaining family members and friends as they come in and out of the ICU. Mia must decide if she should stay with Adam, her boyfriend, Kim, her best friend and her grandparents, or if she should leave and go where ever her mom, dad and little brother went.
I cried. I won't lie. I really enjoyed the heck out of this book. It's sad, but not overly so. I was cheering for Mia to stay! I won't tell you if I got my wish, but I will say I think it had a happy ending. Who doesn't love a happy ending?
A little bit about the author (taken from
amazon
) and don't forget to check in to Gayle's other book, SISTERS IN SANITY. I'll be reviewing it as soon as I have the chance to read it!
An Interview with Gayle Forman
Q: You started your career as a journalist and your first book is a travelogue about going around the world. Is YA literature a departure for you?

Gayle Forman: Actually, it's more of a homecoming. My first writing job was at Seventeen, where I spent five years on staff and as a contributor reporting the magazine's social-issues stories. I loved writing for teens then because—contrary to popular opinion—they really care about serious issues (from child soldiers in Africa to kids embroiled in the drug war here) and the engage in their reading with such passion. So, now that I'm writing young-adult literature, it feels like I've come full circle.

Q: This book explores some serious themes. Why is this a book for kids and not adults?

GF: It's a book for kids precisely because it explores serious themes. Teenagers are grappling with choices about life and love as much as adults, so why shouldn't their reading reflect that? I don't set out to write YA. It just seems like I'm drawn to stories about young people. That said, I think If I Stay is for adults, too. I love the idea of teens reading this book and then handing it off to their parents.

Q: Many key characters are serious musicians, and songs are referenced throughout the book. Are you a musician?

GF: No. Except for piano lessons when I was a kid and a brief spate of guitar playing in my teens, I've never played an instrument. I am, however, a huge music fan. And my husband is a musician; he was playing in a punk band when we met, so I've spent a lot of my life ensconced in that scene. I seem drawn to writing about musicians, though I've never been all that interested in the cello until Mia popped into my head.

Q: What inspired you to write this book?

GF: Music. Oregon. People I have loved. And unfortunately, the book is inspired by a real-life tragedy that happened several years ago.

Q: This is a book about death, but it's not depressing. Why is that?

GF: Maybe because it's really about the power of love—of family, friends, music—and therefore it ultimately affirms life.



From Publishers Weekly
Starred Review. The last normal moment that Mia, a talented cellist, can remember is being in the car with her family. Then she is standing outside her body beside their mangled Buick and her parents' corpses, watching herself and her little brother being tended by paramedics. As she ponders her state (Am I dead? I actually have to ask myself this), Mia is whisked away to a hospital, where, her body in a coma, she reflects on the past and tries to decide whether to fight to live. Via Mia's thoughts and flashbacks, Forman (Sisters in Sanity) expertly explores the teenager's life, her passion for classical music and her strong relationships with her family, friends and boyfriend, Adam. Mia's singular perspective (which will recall Alice Sebold's adult novel, The Lovely Bones) also allows for powerful portraits of her friends and family as they cope: Please don't die. If you die, there's going to be one of those cheesy Princess Diana memorials at school, prays Mia's friend Kim. I know you'd hate that kind of thing. Intensely moving, the novel will force readers to take stock of their lives and the people and things that make them worth living. Ages 14–up. (Apr.)
Copyright © Reed Business Information, a division of Reed Elsevier Inc. All rights reserved.